Sellics is one of the most popular Amazon seller tools. All clients of Amazon look forward to rank products in highly competitive search terms and thereby boost their business. A number of Amazon seller tools are available for this purpose. Sellics is one such tool. Sellics is a complete Amazon FBA management solution, which provide tools and features to manage the following:
All Amazon Sponsored Products as well as PPC Campaigns
Review Management
SEO & Listing Optimization
Competitor Research
Inventory/Stock Management
Keyword & Product Research

The best thing about Sellics is how it pulls accurate data and metrics from Amazon following which it translates them into clear, understandable insights. Sellics does not have complicated data and prioritises user experience almost as well as the more specialised tools. Sellics comes in two main packages, the "Seller Edition" and the "Vendor Edition".
What Are the Main Features of Sellics?
Included in all Sellics packages is:
A user-friendly testing suite
Listing analytics and optimisation tools
Keyword research, rank tracking and analytics functions, also for your own listings and those of competitors
Complete sales data from Amazon for BSR, competitor comparisons, refunds, PPC costs and performance, profits and more
Amazon Sales Rank Tool which covers sales volumes, sales history, price history, product rank tracking etc.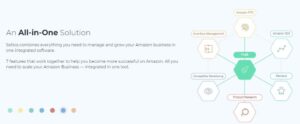 Here's a detailed look at the individual features and tools:
The Niche Analyser
A simple tool that analyzes the potential sales volume as well as strength of the competition in your chosen niche! This tool is great when you are considering entering a new niche or deciding to launch a new product. It gives valuable information on the number of sales the niche makes and how many sales the biggest players make in this niche. How difficult it is to rank on top and how many sales have to be made for this are also indicated.
Product Detector
This tool gives a detailed breakdown of all the products which are listed on Amazon currently. Its main use is to find all the profitable niches with low competition. It has some filters helping you know how the products are sorted though, thereby allowing you to order products by sales rank, reviews etc.
Keyword Rankings
Here, it's all about researching keywords, finding who's ranking well and for what, finding all of the possible keywords for your niche, like the ones with most traffic and least competition. Get search volumes of over 200 million Amazon keywords, in order to see what works and what fails.
Inventory Management
Inventory management is a big hassle for an Amazon seller especially those that have a broad range of products with multiple manufacturers and in multiple Amazon marketplaces.
PPC Manager
The PPC manager gets data and metrics from your Amazon Sponsored Products campaigns then allows you to analyse and optimize them. It alerts you of keywords that are not performing well giving alternatives based on search volume and impressions.
Profit
The Sellics' Profit dashboard gives running totals on all your profit margins updated every 5 minutes. Manually input the individual unit cost of your products from outside of Amazon. The Profit Dashboard will then automatically deduct all costs that are from Amazon, including Amazon fees, PPC costs, FBA fees and shipping fees.
Review Management
This gives instant notifications and alerts when negative reviews, allowing you to rapidly take action to defend your brand with a single click.
Pricing
All prices listed below are per month. You can experience every feature of Sellics for free with their 14-day free trial. If you decide to subscribe afterwards, the price varies according to the Seller Edition or Vendor Edition as well as the average sales volume you make per month. Here's a look at the seller edition pricing based on average annual sales on Amazon.