According to the Vision Council of America, about 75% of adults use some vision correction method or wear prescription glasses. This shows how huge the market is.
If you're interested in making money through affiliate marketing and have a passion for eyewear, then promoting prescription glasses through affiliate programs could be a great opportunity. Prescription glasses are necessary for many people, and with the rise of online shopping, the demand for eyewear sold through affiliate programs has never been higher.
In this article, we'll look closely at prescription glasses affiliate programs. Whether you're a seasoned affiliate marketer or starting, read on to learn more about this lucrative niche.
6 Best Prescription Glasses Affiliate Program
1. Fytoo Affiliate Program: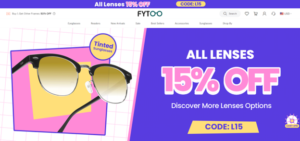 Fytoo, a leading global online eyeglasses store, follows the motto of "Quality Outweighs Price" and is committed to providing superior-quality glasses and comprehensive services to its customers. With the belief that "Better Glasses, Clearer World", Fytoo's philosophy centers on delivering premium eyewear to enhance people's vision and, ultimately, their lives.
By partnering with Fytoo's Affiliate Program, you can create a mutually beneficial relationship with your customers. Fytoo offers various discount codes to attract potential buyers and ensure customer satisfaction with their 30-Day Return & Exchange policy and 365-Day Quality Guarantee.
As a new partner of Fytoo's Affiliate Program, you can earn an 18% sales commission during your first month. The commission structure is flexible and can go up to 25% on every sale you initiate, making it a lucrative opportunity for affiliate marketers. In addition, there are bonuses for referring new affiliates to join the program. The cookie duration is 30 days, ensuring you get credit for any sales generated within that time frame.
1. ThinOptics Affiliate Program: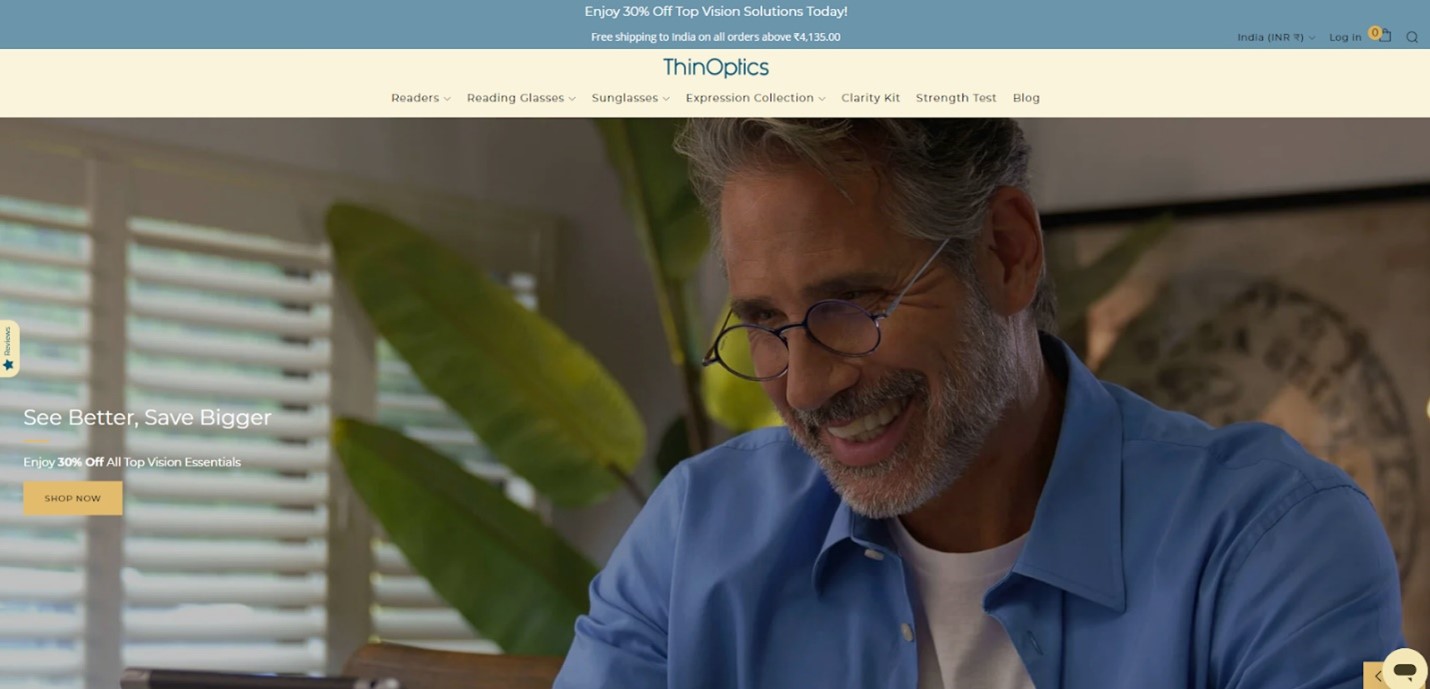 ThinOptics is a revolutionary company that has created the "Always with You" reading glasses designed to attach to any surface and go anywhere with you. These game-changing readers and reading glasses are incredibly durable, weighing less than a nickel and as thin as two credit cards. They come with slim and durable cases that attach easily to your phone or integrate with your everyday essentials like your wallet, keychain, or laptop. ThinOptics also offers a range of eyewear solutions, including stylish sunglasses, armless readers, full-frame reading glasses, and blue light-blocking glasses to suit different needs.
As an affiliate partner, you can earn money promoting and driving sales for ThinOptics. By joining the ThinOptics Affiliate Program, you'll have access to a range of banners and unique tracking links that you can place on your website, blog, social media posts, or email. When users click those links, they will be directed to the ThinOptics website, and the Pepperjam platform will track their activity.
ThinOptics offers affiliate-specific product landing pages and exclusive promotions. They also review affiliate traffic and revenue daily, offering high-performing partners potential bonuses or commission increases. Additionally, they offer higher commission rates for partners with higher revenue and recognize high-traffic times by providing more incentives during those periods. Commissions start at 10% of all sales generated by the links you place on your website or social media posts, and payments are made monthly, net 30 for the previous month. ThinOptics also provides weekly newsletters to keep affiliates up-to-date on the latest information and links.
2. Liingo Affiliate Program: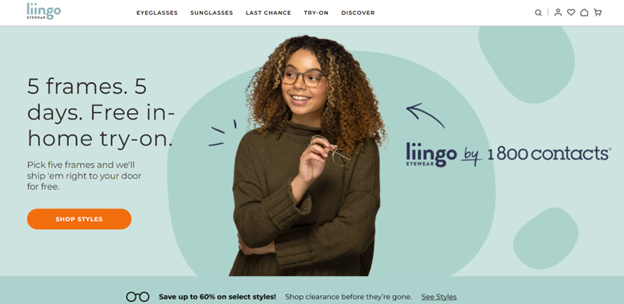 Liingo Eyewear is a brand that believes eyewear is a statement piece and everyone should own more than one pair. Their affiliate program offers an excellent opportunity for their partners to earn while selling their stylish glasses. Liingo is known for offering free prescription lenses, 100% free shipping and returns, a 60-day delight guarantee, and affordable premium frames.
Their site conversion rates and order sizes are high, and they have grown extremely fast, recently being acquired by 1-800 Contacts. As a result, they are eager to invest in their affiliate partners.
Joining the Liingo affiliate program has numerous benefits, including a 10% commission on every order, $1 lead commission for every In-Home Try-On, and a full commission when the customer purchases. The cookie is 45 days, and affiliates can take advantage of exclusive promotions, discounts, and contests. Additionally, referring friends to the program earns the affiliate $15 for every friend approved.
3. Vicci Affiliate Program: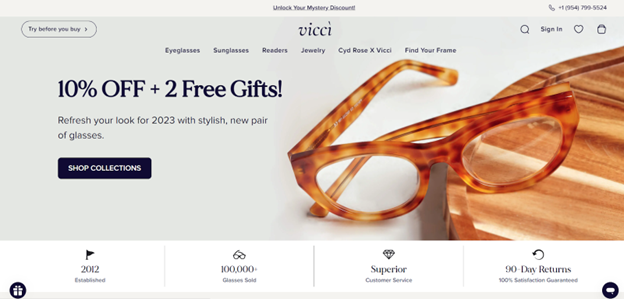 Vicci is a fashion brand that believes in making affordable and accessible fashion available to everyone. They have an affiliate program that allows individuals who share their values to promote their products and earn a commission in return. As an affiliate partner, you can share Vicci's curated Featured Shops, Collections, Daily Drops, and Sales through your preferred medium, whether social platforms, email, or your website. For every sale made through your affiliate links, you will earn a 10% commission. You will receive your commission payout once a month.
Vicci's affiliate program also includes a 15-day tracking cookie window, allowing you to earn commissions on sales made after a customer has clicked on your affiliate link. Additionally, you will have early access to sales, collection launches, and brand updates. Vicci provides high-resolution assets and banners added monthly to support your promotional efforts.
You will also have access to program performance and earnings via Impact, which allows you to track your progress and see how much you've earned. As a high-performing affiliate partner, you may also receive exclusive codes based on your performance for your readers and followers. This is a great way to incentivize your audience to shop with Vicci and earn more commissions.
4. DIFF Charitable Eyewear Affiliate Program: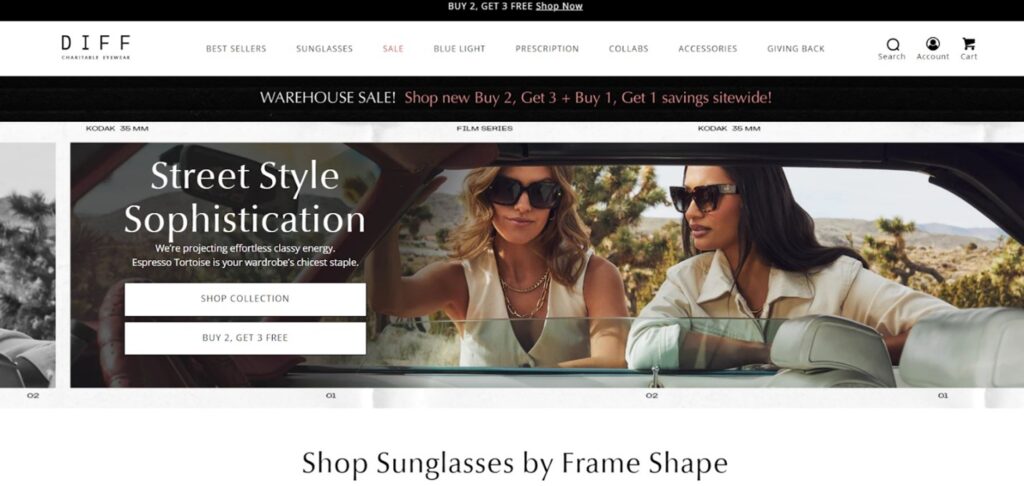 Official Website: DIFF Charitable Eyewear
DIFF Eyewear is a socially conscious eyewear brand that creates designer-quality glasses and strives to impact the world positively. Founded in 2014 by three driven millennials, Zach Gordon, Chad Jernigan, and Chad Dime, the brand aimed to create handmade, designer-quality eyewear that was affordable for everyone. The founders had prior experience in the eyewear industry and knew what it took to create a successful brand. DIFF Eyewear partnered with popular influencers like Kendall and Kylie Jenner to spread awareness about the brand. This resulted in the brand going viral and reaching new audiences.
What sets DIFF Eyewear apart from other eyewear brands is its charitable business model, "Buy two, Give three free." For every pair of glasses sold, the brand donates a pair of reading glasses or funds an eye exam for someone in need. Since 2015, DIFF has donated over 620,000 pairs of reading glasses worldwide, and they plan to continue their efforts to make a difference.
As an affiliate partner with DIFF Eyewear, you can promote a brand that offers designer-quality glasses and gives back to those in need. By sharing the brand's mission and products, you can earn a commission on sales through your unique affiliate link. Joining the DIFF Eyewear Affiliate Program means partnering with a brand that cares about making a positive impact and creating high-quality products.
5. Roka Affiliate Program: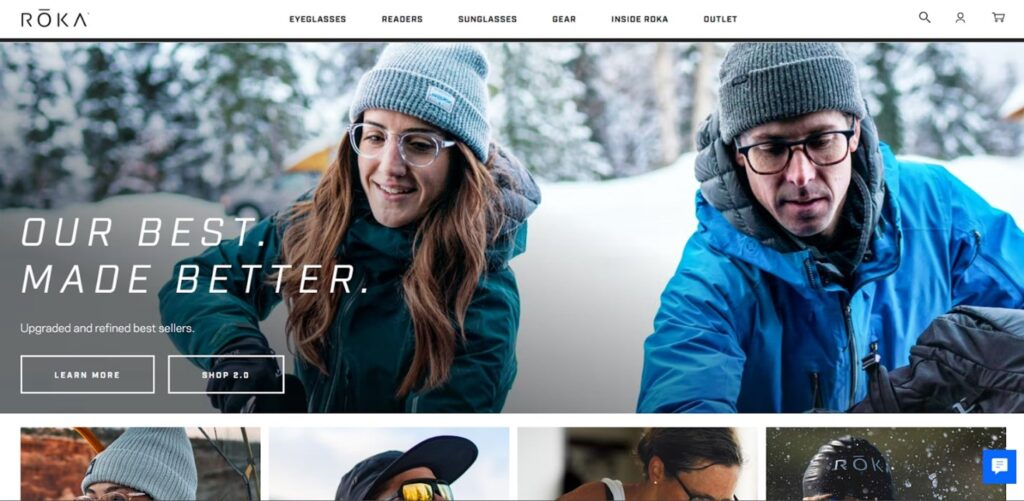 ROKA is a brand that was founded on the idea of making things better than before. The company is dedicated to redefining the standard of performance design by creating purpose-specific tools that elevate performance for anyone, anywhere. Their products focus on solving real problems they find while they're out being active, using product design to unlock the potential of individuals.
ROKA's mission is to help individuals unlock their potential. They believe that with the right tools, anyone can accomplish the impossible. That's why all of their product breakthroughs focus on one thing: better performance through design. From the nose pads on their eyewear to radically re-engineering how wetsuits are put together, ROKA is committed to using design to help individuals achieve their best.
As an affiliate of ROKA, you can earn a 5% base commission and take advantage of seasonal promotions and exclusive deals. You'll also have access to product review opportunities and dedicated management. ROKA is an official Performance Eyewear Partner of the Ironman® Global Series, and all prescription eyewear is cut and assembled in Austin, Texas. Additionally, all custom eyewear is assembled in Austin, Texas.
Conclusion
Prescription glasses affiliate programs offer a unique opportunity for affiliates to earn commissions while helping individuals find the perfect pair of glasses. With a wide range of options, from designer frames to affordable eyewear, affiliates can promote products that meet the needs of their audience. Additionally, many prescription glasses affiliate programs offer exclusive deals and promotions and dedicated management and product review opportunities.
By partnering with reputable brands in the eyewear industry, affiliates can build a successful and profitable business while positively impacting their customers' lives. The prescription glasses affiliate programs present a win-win situation for the affiliate and the customer, making it a great opportunity for anyone interested in the eyewear industry.