According to Brand Essence Research, the meal delivery industry in the US alone stands at USD 8.74 Billion according to data from 2022. This figure is expected to increase to USD 19.33 Billion by 2029. Why not take advantage?
In today's fast-paced world, more and more people are turning to meal delivery services to help them save time and eat healthier. With so many options available, choosing the right one for you can take time and effort. 
Fortunately, many meal delivery services offer affiliate programs that help you make a commission and promote high-quality products that can benefit your audience. 
In this article, we'll introduce you to some of the best meal delivery affiliate programs available, so you can help your followers eat well and earn money at the same time.
13 Best Meal Delivery Affiliate Programs
1. Trifecta Affiliate Program:

The Trifecta Affiliate Program is ideal for businesses and individuals promoting healthy eating and nutrition. Suppose you're a nutrition coach, athletic director, fitness coach, or a business owner. In that case, this program offers additional revenue streams while providing your clients, team, or staff with the nation's most trusted meal delivery service. The Trifecta Affiliate Program provides competitive commissions, allowing you to earn commission on all qualifying sales generated by links to their store. 
You can also get real-time conversion tracking on your unique dashboard. Additionally, impactful campaigns will help you promote Trifecta to your audience and elevate your brand. You will also unlock exclusive access to Trifecta's resources dashboard and downloadable assets, keeping you updated on nutrition, fitness, new products, promotions, and news. Join the Trifecta Affiliate Program today and start promoting healthy eating and nutrition to your audience while earning commissions.
2. Factor75 Affiliate Program:

Factor 75 is a meal delivery service that offers chef-prepared, healthy meals to customers' doors. Their meals are hand-crafted from the highest quality, nutrient-rich ingredients available today. The company firmly believes that 75% of performance comes from what is eaten, and therefore, they focus on using non-GMO ingredients with integrity, including 100% grass-fed beef. 
Their goal is to make it easy for customers to optimize their physical and mental performance by providing them with healthy meals ready to eat in just two minutes. The Factor 75 affiliate program provides a 180-day cookie duration, allowing affiliates to earn commissions up to 6 months after the initial referral. Join the program through FlexOffers.com to learn more.
3. BistroMD Affiliate Program:

The BistroMD Affiliate Program is an excellent opportunity for ompanies and individuals to earn commissions by promoting BistroMD products on their websites. BistroMD is a team of passionate individuals who combine their love for delicious food with the knowledge that food is medicine. They firmly believe that healthy food can prevent many health issues that plague people today.
The BistroMD Affiliate Program is perfect for diet review websites, fitness and wellness websites, bloggers, retailers, coupon distributors, and more. Joining the program is easy and has many benefits, including a dedicated program manager, existing brand awareness, high product demand, attention-grabbing banners, solid offers, and bi-weekly newsletters with exclusive promotions and special offers.
4. Blue Apron Affiliate Program: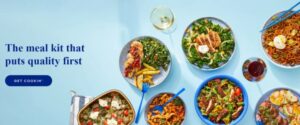 The Blue Apron affiliate program is an excellent opportunity for publishers to promote blueapron.com, a meal delivery service based in the United States. Blue Apron provides meal kits with fresh ingredients and mouth-watering recipes that guarantee to make dinner the most enjoyable meal of the day. Upon approval, places can access updated links and banners through their FlexOffers Publisher Pro account. These materials will encourage their audience to create new meals at home.
This affiliate program is suitable for individuals seeking simple, health-conscious recipes that make cooking a fun experience at home. Blue Apron is an excellent platform for everyone to become a chef at home. Its meal kits offer all the fresh and healthy ingredients required to cook chef-designed recipes. With step-by-step instructions, subscribers can create delicious meals for their entire family. By featuring promotions containing Blue Apron's meal plans, publishers can find marketing materials that complement their site's content.
5. EveryPlate Affiliate Program:

EveryPlate delivers easy-to-cook, affordable, and delicious dinners that beat supermarket prices. As an affiliate, you can share EveryPlate with your customers or community members and earn a commission for each new, and past customer referred. The program offers a 30-day cookie window, attractive bonuses for top performers, and exclusive offers to promote.
To promote EveryPlate, you can use various methods, including exclusive voucher codes for your audience, EveryPlate box reviews, sponsored content, product reviews, brand comparisons, banners, videos, sharing on social groups, email campaigns, and push notifications. The program provides a wide selection of ad materials, including banner ads, logos, links, and marketing artwork available on request. If you have new ideas for engaging with customers, the dedicated Affiliate Team is open to exploring them.
6. Purple Carrot Affiliate Program: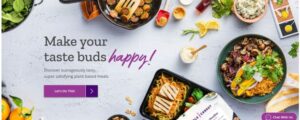 Official Website: Purple Carrot
The Purple Carrot affiliate program is designed to promote the benefits of plant-based eating and inspire customers to try new vegan meals. Purple Carrot is a subscription meal service that allows people to incorporate healthy and sustainable plant-based meals into their busy lives. As a Purple Carrot affiliate, you can take advantage of unique program offerings such as exclusive promotions, reoccurring newsletters with updates on new products and promotions, and bonus opportunities. The hub commission is $25 on all subscriptions, and the cookies last 30 days. The payout model is CPA, and there is no data feed available.
Purple Carrot's average order value (AOV) is $72, and the technology network is 357655. The program is open to approved partner types such as content creators, loyalty programs, mass media, review sites, sub-affiliate/influencer networks, and more. The affiliate program is available for customers located in the U.S., and there are nexus restrictions. As a Purple Carrot affiliate, you can help promote healthy and sustainable eating while earning subscription commissions. By joining the affiliate program, you can share the benefits of plant-based meals and encourage your audience to try new and inspiring vegan dishes.
7. SunBasket Affiliate Program:

The Sun Basket Affiliate Program is a great option for those seeking a healthy meal delivery service that provides fresh, seasonal ingredients and easy recipes to your door weekly. Although not exclusively vegan, Sun Basket offers vegan meals every week, making it an excellent choice for those following plant-based, vegetarian, paleo, gluten-free, dairy-free, and soy-free diets. 
Bloggers looking to promote Sun Basket will be pleased to know that they offer a flat $20 commission through the Impact network, with a 30-day cookie to sweeten the deal. With prices as low as $8.99 per serving, Sun Basket is an affordable and convenient option for those looking to eat healthier and enjoy various delicious meals.
8. Territory Foods Affiliate Program: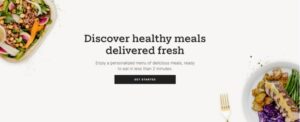 Official Website: TerritoryFoods
The Territory Foods Affiliate Program offers an opportunity to promote a curated marketplace of healthy meals created by local health-forward chefs, restaurants, and culinary entrepreneurs. Their mission is to make it easier for people to eat better. 
As an affiliate, you can use your creativity and network to share your love for Territory Foods. Use social media, blogs, word-of-mouth, or any other method that works for you. Join the program today and participate in its mission to promote healthy eating.
9. Diet-to-go Affiliate Program: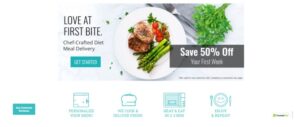 their services. They welcome all types of partners, whether you have a large diet review site, a blog about health and wellness, or just a small Facebook following. As a partner, you can earn $40 on every sale, with multiple opportunities for larger commissions and bonuses. Diet-to-Go pays partners when they refer a visitor to their website who purchases a meal plan. 
They track your sales via links and promo codes, and you can track all your activity and sales through your online dashboard. Dozens of partners earn over $1,000 monthly with the Diet-to-Go affiliate program. They also offer full-time dedicated program management and a 45-day referral period (cookies).
10. CookUnity Affiliate Program: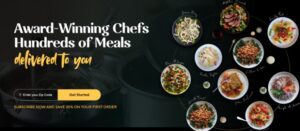 CookUnity is a unique chef-to-consumer platform that offers a diverse range of exceptional meals to foodies looking for a great dining experience at home. With more than 30 top-rated NYC chefs on their platform, CookUnity aims to discover the world's best food makers and bring their delicious meals to a wider audience.
Customers can enjoy over 200 expertly crafted meals that cater to different dietary needs and preferences through a weekly subscription. CookUnity provides a personal chef experience, where every week, private chefs create more than 150 healthy and delicious meals using only the freshest ingredients.
11. GreenChef Affiliate Program:

Green Chef is a meal delivery service that offers a range of healthy meal options, including meat-based keto and paleo options and plant-powered meals. 
To promote Green Chef, linking directly to their plant-powered meals landing page may be useful, especially if your audience is not strictly vegan but is interested in healthy eating. Green Chef's meal options cater to people who are generally mindful of their diet and want to make healthy food choices.
12. Veestro Affiliate Program:

Veestro is a company that delivers 100% plant-based, chef-prepared meals to people all over the continental United States. Their meals cater to various dietary needs, including vegan, vegetarian, and gluten-free diets. Veestro's affiliate program offers a base commission of 10.00% and a cookie duration of 30 days. 
Affiliates can earn a percentage of the sale for each online purchase with a valid payment. Veestro's program is a great opportunity for those looking to promote healthy and sustainable meal options. With Veestro's meals, eating smart and achieving nutritional or health goals has always been challenging.
11. Gobble Affiliate Program: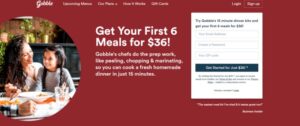 Gobble is on a mission to bring people together through the love of food. Their meal delivery service offers 15-minute, 3-step, 1-pan recipes that create lasting memories around the dinner table and remove the stress of meal planning. Customers can choose from a diverse weekly menu with wheat- or dairy-free, low-carb, and vegetarian options. 
Gobble's team of chefs preps the ingredients, including premium sauces, marinades, and pre-portioned and measured seasonings. The meal kits arrive in a refrigerated box on the customer's doorstep, and dinner can be cooked in just 15 minutes. This allows customers to spend more time unwinding with their loved ones. 
Conclusion
The world of meal delivery has grown tremendously in recent years, with many companies offering high-quality, chef-prepared meals delivered right to your door. By becoming an affiliate of these meal delivery programs, you can earn a commission while promoting healthy eating and making it easier for people to enjoy delicious, nutritious meals. 
With various options available, from vegan and vegetarian to keto and paleo, there is something for every type of audience. Take advantage of the chance to join the meal delivery affiliate program and help others eat well while growing your business.