Logos are the soul of every new brand as it gives them immediate recognition in the crowd. In simple words, the logo is a symbol, mark, or emblem used to help public identification. Every brand, before starting or launching its full-fledged business, designs a conceptual or metaphorical design so that it gets quick recognition among the public. 
In today's digital marketing world, a logo is often synonyms with trademark or brand. So, as you very well understand the importance of a logo, the market for logo maker tools is in great demand. There are many tools available in the market that help you in designing an attractive and worth remembering logo for your upcoming brand. 
Today's post is related to the Logo maker affiliate programs. If your website or blog is dealing with content related to software, tools, or marketing stuff to build an online website or offline store, then add logo maker affiliate programs to enlighten their usage and importance to your viewers. So, let's explore the best logo maker affiliate programs in the market. 
10 Top Logo Maker Affiliate Programs:
1. Smashing Logo:

If you are looking for a feature-rich logo maker, the Smashing Logo can be of great help. It has a huge regularly updated font library numerous patterns, and 300 + Pantone colors that ultimately result in an endless number of combinations. With the help of precise designing principles, professional designing is reinvented and automatized. 
You get the initial package LITE at $39/onetime payment, including features like medium resolution file, transparent PNG files, and logos used for website and blogs only. You can download a sample package to check how it works. All major payment methods are accepted and you get access to 24/7 customer support. 
Smashing Logo affiliate program offers:
30% commission

No limit on earnings

Regular month-wise payments via PayPal, Bank/Wire Transfer, or Payoneer.

Exclusive discount for your customers

Access to affiliate links and banners to promote on social media or blogs

Network partner- Paddle

Sign up link- 

https://a.paddle.com/join/program/8764
2. Logo Maker:

Established in the early 2000s, LM came up with the idea of designing customized logos for business owners. With passing time, they added more features to the list like various fonts, layouts, colors, and icons along with the logo maker app. Saving hundreds of dollars, one will be able to design logos by himself for every kind of firm, unlimited logo designing, downloading image files in PNG, JPG, GIF, and EPS. 
You can purchase promotional products on the website to display a new logo and also select a domain name and build a website via LM. LM's internal logo designers help you in creating stunning logos at half of the cost than other agencies. For any kind of support, refer to the FAQ section, email them, or message them on Facebook and Twitter. Its customized logo packages start at $99.
Logo Maker affiliate program offers:
3. Looka: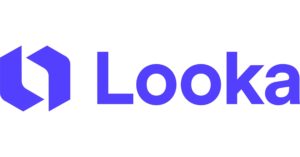 Looka is an AI-powered graphic designing firm with an automatic designing process. Its features add up creativity, vision, and fun to your brand identification. Formerly known as LogoJoy, Looka came up in November 2016 to empower every business owner to design its logo quickly and inexpensively. Today, Looka is trusted by 5 million business tycoons from 182 countries for its valuable customized designing tools. 
Looka offers you the best of editable logo designs, high-resolution files (SVG, PNG, EPS & PDF), 40+ readymade logos for social media, business card designs, brand info, and perfect theme for website designing. You first have to opt for a logo package starting with a Basic plan including one logo PNG file at $20/one-time purchase. Next, you have to choose a website package if required starting at $10/mo. 
Looka affiliate program offers:
$30 or 25% commission for every sale

Shareable links on social media website or any other promotional platform

Monthly payouts via PayPal

90-day cookie duration

Network partner- PartnerSack

Sign up link- 

https://looka.partnerstack.com/
4. Free Logo Design:

FreeLogoDesign is a free online logo software serving magnates, small and medium establishments, freelancers, or organizations to make specialized logos in minutes. They use the most advanced HTML logo creator in the market, allowing the use of tools on tablets or phones. The products included in FLD are custom logo design, social media kits, and logos color guide. 
FLD can design logos for all kinds of industries including abstract, agriculture, pets, construction, education, and many more. You can design your logos for free but have to compromise on resolution. You get access only to transparent PNG with 200*200 pixels. The high-resolution plan starts at $39, and the website plus logo designing costs $129. 
Free Logo Design affiliate program offers:
$10 commission for each logo sold

25% commission on High-resolution plan

Payment by PayPal

The commission is received on 15th of every month

Minimum $50 payout

15-day cookie duration

Network partner- Affilae
5. Logo Garden:

Logo Garden was founded in 2011 by FCA Venture Partners but procured in February 2017 by LogoGarden.com Pty Ltd with its headquarters in Brisbane, Australia. LG is a simple, easy, and inexpensive way to start branding any kind of business, startup, organization, event, or project. Its customized logos are both for web and print-ready letting you ascertain a brand identity very fast. 
LG offers wide-ranging digital file formats, customized logo design, costs choices, and branded products such as business cards, websites, clothing, and profile-raising items to meet your requirements. LG's custom logo design services start at $30. 
Logo Garden affiliate program offers:
40% commission along with bonus earnings

$8 commission on high res logo file sales, up to 20% commission on upsells

45-day cookie window

High converting content

Affiliate network partner- CJ
6. Logo Type Maker:

LTM is one of the easy-to-use logos creating tools assisting small business owners and entrepreneurs to design ideal logo designs. The Artificial Intelligence evaluates the inserted data and creates the templates, which meet the user's prerequisites. Besides providing the inspiring logo ideas, LTM also behaves as an online brand building helper. 
It combines hundreds of silhouettes, images, and fonts into a logo editor assisting you in creating beautiful branding. You can choose any package ranging from the Basic at €1,99/mo, to Premium at €4,99/mo. The Basic plan will give you unlimited access, logo resize tools, and high-quality logo files. 
Logo Type Maker affiliate program offers:
30% on Premium plan

Earn each time a referral purchase

Paid via PayPal, Stripe, and Bank Transfer

90-day cookie window

Network Partner – PartnerStack

Sign up link- 

https://logotypemaker.partnerstack.com/
7. Design Hill:

Trending at #1, Design Hill offers you numerous creative logos making services, that will make your jaw drop. This artistic marketplace caters to the imaginative demands of businesses and individuals who can obtain high-quality designs from proficient designers and exclusive products coined by individual artists.
Along with the team of 125000 designers and creative people from over 52 countries, Design Hill was introduced in 2014 by Rahul Aggarwal and Varun Aggarwal. The intuitive tools offered by DH are business tools, logo maker, t-shirt maker, business card maker, email signature generator, and gift cards. Its Fast track plan starts a $249, along with quality features like 20+ designs, creative designers, money-back guarantee, 4 designs per designer, and unlimited designers. 
Design Hill affiliate program offers:
20% commission per sale

Trustworthy and custom performance analytics

Dedicated support

Unlimited income

Real-time sales reporting

Exclusive offers and discounts

30-day cookie window

Network Partner- CJ
8. Logaster:

Logaster is again a giant online brand identity builder with AI-generated speed and designer authorized quality. With 8+ years of experience in hand, Logaster has created 13 million brands ranging from small businesses, startups, restaurants, to photographers. It is a joint effort of Eugene Kasinsky, Viktor Burdeinyi, and Alexandr Olijnyk. 
The smart features included are free logo trial, printing vector files, 120+ high-resolution files, 6 layout choices, logo modifier, as well as copyright on designs. It satisfied branding needs by creating excellent logos, business cards, envelopes, letterheads, favicon, brand patterns, user pics, brand books, logo wallpapers, and more. Logaster basic plan XS starts at $5.99, creating a logo for the web only.
Logaster affiliate program offers:
30% commission

Shareable links and promotional stuff

Minimum withdrawal is $15

$5 for signing up new partners

6 months cookie window

Payouts made on 5-15th day of the month for sales referred in last month
9. Tailor Brands: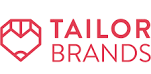 With 14 million users worldwide and 500 million designs created, Tailor Brands is a leading AI-powered logo design and branding platform. In just a few minutes, you can create a professional, top-quality, and unique logo for your brand. TB gives you access to various social post design templates related to your logo and brand in a jiffy. 
Moreover, the Tailor Brands website builder tool allows you to create a striking and on-brand website too quickly. The branding tools of TB include branded merch, business deck, vector EPS, business cards, holiday logos, presentation, logo editor, and brand book. Also, it offers social tools like media size logo, advanced analytics, Facebook assets, scheduled posts, and design posts easily. Its basic plan Dynamic will cost you $9.99/mo.
Tailor Brands affiliate program offers:
Get up to $100 for every customer

Dedicated affiliate manager

Payments made via Tune.com or Wire Transfer

The minimum payout is $100

30-day cookie window

Network partner- Tune

Sign up link- 

https://tailorbrands.hasoffers.com/signup
10. logomyway:

If you are looking for a feature-rich logo maker logomyway is one best place. You can get there high-quality logo from creative logo designers all over the world. There are more than Over 30,000 hand-picked logo designers from all over the world are waiting to create your new logo. Not only the premium one there you can get a free logo from there collection giving you 100% full legal ownership of your new logo design.
Through there affiliate program you can earn up to $90 of every sale made through your referral. Join our fast growing affiliate program and earn 30% of every sale that's generated through your referral.
logomyway affiliate program offers:
30% commission
Earn up to $90 of every sale made through your referral.
Payments are verified and paid out the month after your commission is earned.

All cookies last for 90 days after someone clicks on your link.
11. Designevo:

DesignEvo is a popular logo maker online that helps you create custom logos of high quality and in less time. You can browse through the different categories and search among more than 10,000 professional-grade logo templates. With there Cloud-Based system design easily and customize from anywhere with unlimited edits anytime you want.
Designevo affiliate program offers:
25% Commission Fee And Extra Bonus
90-Day Cookie Tracking, Your Promotion Is Your Sale
Link: https://www.shareasale.com/shareasale.cfm?merchantID=79751
Wrapping up
The above mentioned 9 best logo maker affiliate programs are extremely profitable for affiliate marketer working on marekting niche. The commission offered by these logo designing platforms is comparatively high. The affiliate earnings are constant, resources offered for help are ample, and they themselves work out to bring in more traffic to your blog. 
Hence, the only thing you have to do is create some great content including these tools and get going. You can promote these logo maker affiliate programs by creating top-10 lists, how-to articles, or reviewing each tool separately. 
I hope you enjoyed this post on logo maker affiliate programs. If you want to know about other affiliate programs to increase your earnings, please feel free to write in the comment section.