With the glamorisation of e-commerce with Alibaba, Amazon,eBay, etc. in the recent decade. Dropshipping has gained its importance and is getting popular. The biggest Giant of this Ecommerce domain is Alibaba which initially started as a small e-commerce platform in china and with time it grew, and now it dominates the whole of Asia. Everyone is aware of the perks of collaborating with such a large firm like Alibaba, which is so wast and you can find anything and everything possible is known to man. One such way to do so is through AliDropship.
Whats and Hows of AliDropship???
AliDropshipping is a plugin that pulls the products from Ali Express(exclusive service of Alibaba which lets individuals or businesses to buy a small batch of products at a wholesale rate to resale it)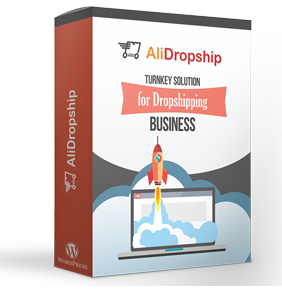 How does it work?
AliDropship is a plugin that helps you showcase the products from AliExpress. Unlike other plugins, AliDropship is specific to WordPress and WooCommerce only. As an add-on feature, it also helps the users to host and build their complete website through AliDropship.
It connects and integrates with your WordPress and WooCommerce page and transforms it into a store and thus, allows the user to choose and pick products from AliExpress.Once the customer makes a choice, the products are automatically sent to your shop with product details (description, title, and photos).
Regarding Payments, you have two choices when deciding to pay for AliDropship. The first is the custom store, which lets you develop your dropshipping website (100% ownership of your shop)on the AliDropship platform OR, to the WordPress plugin which works similar to the custom store, but it integrates with an already designed WordPress site. 
Pricing and Payments
The prices seem to be high for a few ppl, but one thing which everyone agrees to is the service and quality which always works in their favour.
One of the most discouraging thing about AliDropship is that there are no free trials which discourage a lot of newcomers who are unsure about AliDropship.Other than that the description of the plans lack specificity like the WordPress plugin is charged $89 and there is no information as to if it is a one-time payment or this payment is monthly or yearly and what all features it includes like updates and new add-on features or not.
Few plans along with the charges are:
WordPress plugin – $89

Custom Dropship store plan ranging from $299 up to $2899 (Supreme Package)-
It's a one-time investment fee where the store starts with 50 products upto an unlimited number of products depending on your plan.
Another custom store plan is ranging $499 and $899 that includes Promotional videos and social media marketing tools. It is also a one-time payment plan.

Web Hosting plan starts with a yearly payment of $48 which include FREE SSL
Silver – $48 per year for 3GB of space + unlimited bandwidth + control panel+20 email addresses + free SSL and up to five websites.

Gold – $86 per year for 8GB of space+ 40 email addresses, support for up to 10 websites + everything in the silver plan.

Gold Plus– $129 per year for 12GB of space + 40 email addresses, support for up to 10 websites + everything in the silver plan.

Platinum – $220 per year for 17GB of space + 80 email addresses + up to 30 websites + everything in the gold plans.
Supreme Package – $2899 – one-time payment. This package offers you a ready-made business in 25 days that are done with Niche research+ Domain name (.com)+ Platinum hosting for one year+ Custom design (mobile-ready)+ Google Analytics integration + AliDropship plugin + 500 product to sell + Unlimited products to choose from.
For a lump-sum idea, the most basic AliDropship custom online store without any extra charges and extra features but with all the one that you need to start off with your work is $340 approximately, which includes web hosting as well. This price is reasonable because it's just a one-time investment and you are all set to take a jump in the dropship business and not to forget you are always backed with customer support. The only place where you will be paying is if you choose to get an add on for your site and these add-ons charges go up to roughly $65.

Pros and Cons of AliDropshipping:
Pros

:
They do everything for you like setting up your store, giving you 100% ownership.

One time investment with amazing features.

Product quality is excellent.

With just one click your WordPress site is converted into a fully furnished store.

It is fully automated and offers lots of amazing add-ons that can help you increase traffic on your store.

Lets you fix your own price and also design your store with their templet libraries

You can be apart of a big forum a big network which helps you collaborate and interact with other business individuals 
Cons:
No free trials for a plan.

Delivery takes a lot of time.

You have to wait for a long duration to get a response from the customer care representative.

The description and information is not clear hence it can leave people in confusion
Who should try and opt for AliDropshipping?
If an individual or business is unsure about its resources or lacks the ones required to start your own store, then AliDropshipping is the right place to look, or if you have a WordPress or Woocommerce site already running then AliDropshipping can help you earn just with one click.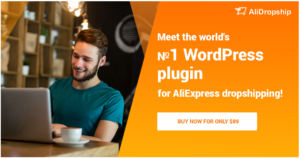 Note from the Author:
It is a myth when they say Dropshipping is No risk, only profit. No doubt its hassle-free, but in every business, you have risks as well as advantages and losses. The only thing that can save you from going into failure is your skill and your chance analysing and risk-taking ability. If you are planning to start a dropshipping business or you are already into one, then do tell us about your experiences. Also, if you want us to cover a specific topic for you, please let us know in the comments.